By-pass valve For "Twin Flow" series Bent Axis Pumps
09/09/2019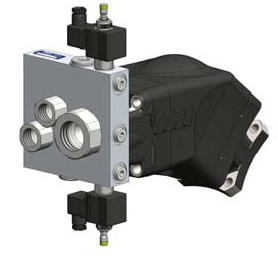 The new OMFB By-pass valve for "Twin Flow" series is now available at CVH!
The by-pass valve is used alongside the "Twin Flow" bent axis piston pump, in installations were the pump is constantly turning, I.e. engine driven.
The oil flow is circulated around the pump when no hydraulic power is required, and by simply engergising the solenoids maximum hydraulic power becomes instantly available.
Recently these pumps have been supplied to operate large recovery vehicles in Finland and Sweden, where the operators prefer engine driven hydraulic pumps as opposed to PTO drives, due to the cold weather and extreme conditions.