iFAT '22: A global leading trade fair in Munich for OMFB GROUP Global trade
01/06/2022
A world leader in the truest sense of the word, IFAT—the World's Leading Trade Fair for Water, Sewage, Waste and Raw Materials Management—is active across the globe offering innovations, resources, and solutions, specifically to tackle those challenges present across various markets.
The sustainable use of resources—and thus climate protection—is the major topic of IFAT Munich, which was held from May 30 to June 3, 2022 at the exhibition centre in Munich. International interest in the World's Leading Trade Fair for Water, Sewage, Waste and Raw Materials Management remains strong. The global community needs environmental technologies— the trade show brings them to life and provides the network to address the greatest challenge of our time.
IFAT 2022 Munich was a great success with all 18 exhibition halls and a large part of the outdoor area occupied. With some 2,500 exhibitors from more than 50 countries.
Environmental, resource and climate protection is more urgent than ever in the minds of the global community, "and IFAT brings together the international decision-makers, experts and market players in one place to tackle the major challenges.
OMFB Top market players in all segments
Products for all exhibition sections; attracted interest from
Remondis, Veolia, PreZero, EEW Energy from Waste, Doppstadt Umwelttechnik, Komptech, Arjes, Sutco RecyclingTechnik, Eggersmann, Lindner-Recyclingtech, Zeppelin Baumaschinen, Sennebogen Maschinenfabrik, Liebherr-Hydraulikbagger, Komatsu, Zöller-Kipper, Martin, SSI Schäfer and ESE.
In the "Water & Sewage" sector, include: Wilo, Huber, Invent Umwelt- und Verfahrenstechnik, Grundfos, KSB, Sulzer, Xylem Europe, Endress+Hauser, Gea Westfalia Seperator Group, Kaeser Kompressoren, EnviroChemie, Otto Graf, Aerzener Maschinenfabrik, Veolia Water Technologies, AVK Armaturen, Hawle Armaturen, Talis, Siemens, Hermann Sewerin, Aco Tiefbau, Kaiser and IBAK.
"Municipal Technology", for example, Faun Umwelttechnik, Bucher Municipal, Aebi Schmidt, Küpper-Weisser and Fayat Environmental Solutions; in the vehicles section, exhibitors will include Iveco Magirus, Scania, Volvo Group Trucks, DAF Trucks, Daimler Truck, Mercedes Benz and OMFB Group.
Strong international presence
In addition, there were international joint pavilions from Belgium, Denmark, France, Great Britain, Italy, Japan, Canada, the Netherlands, Austria, South Korea, Switzerland, the Czech Republic, Turkey, Hungary, and the U.S. Also from Egypt, Australia, Brazil, Ivory Coast, Jordan, Qatar, Saudi Arabia, and Ukraine.
iFAT 2022 Products in Focus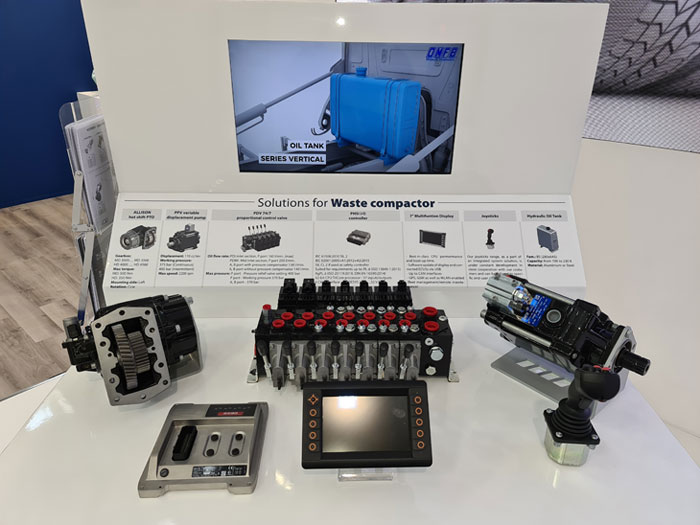 Product Focus - Solutions for WASTE COMPACTORS
Hot Shift ALLISON PTO
PPV Variable displacement PISTON PUMP
PDV 74/7 Proportional CONTROL VALVE
PHSi 1/0 CONTROLLER
7" Multifunction DISPLAY
JOYSTICK
Hydraulic OIL TANK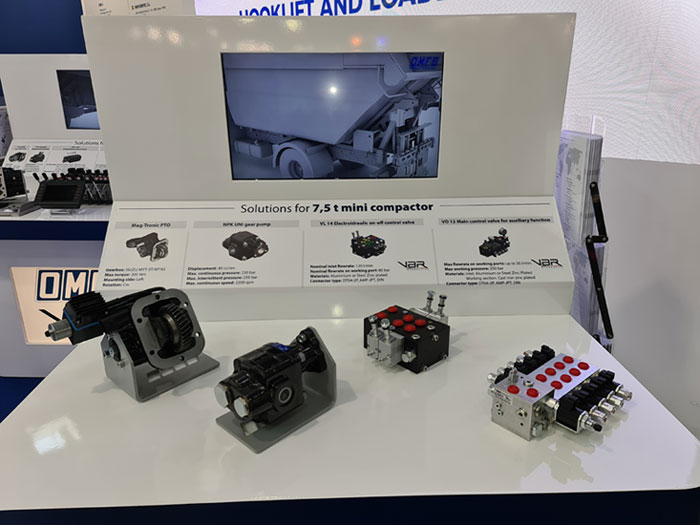 Product Focus - Solutions for 7,5t MINI COMPACTOR
Mag-Tronic PTO eg. ISUZU MYY 5T / 6P / 6S
HDS bent axis PISTON PUMP 400bar
HDT bent axis PISTON PUMP 370bar
VL 14 Electric on-off CONTROL VALVE
VD 12 Main CONTROL VALVE auxiliary function
Hydraulic OIL TANK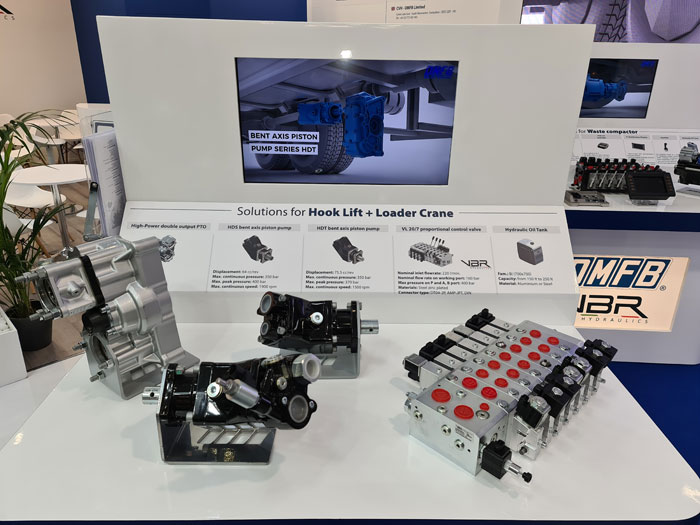 Product Focus - Solutions for HOOK LIFT & LOADER CRANE
High POWER Double Output PTO
HDS bent axis PISTON PUMP 400bar
HDT bent axis PISTON PUMP 370bar
VL 20/7 Proportional CONTROL VALVE
Hydraulic OIL TANK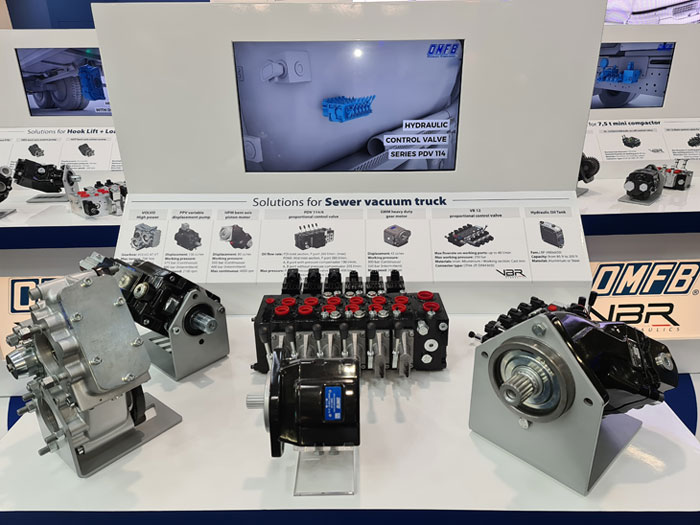 Product Focus - Solutions for Sewer VACUUM TRUCK
High POWER PTO
PPV Variable displacement PISTON PUMP 130cc
HPM bent axis PISTON MOTOR
PDV 114/6 Proportional CONTROL VALVE
GMM heavy duty GEAR MOTOR 43cc 320bar
VB12 Proportional CONTROL VALVE
Hydraulic OIL TANK